Opi Fungus Fix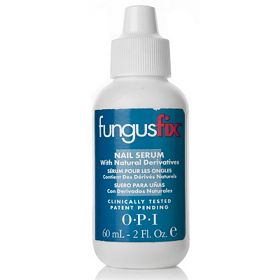 Treatment Ranking: 69.6 / 100
Patients Treated: 10,000 – 20,000
Success Rate: 67%
MSRP: $49.95
***Important Note: Those who are interested in using this product to remove nail fungus should be aware that the OPI company is no longer producing OPI Fungus Fix, although it is still available on Amazon.***
About OPI Fungus Fix
OPI Fungus Fix is manufactured by the same company that sells a wide range of cosmetic nail products, such as nail polish and lacquer. OPI claims to use all natural ingredients in this solution, and that the product has been tested for safety and are said to cause no irritation. The manufacturer states that users will see an improvement in their nails within 2 to 3 weeks, although there seems to be no guarantee offered. OPI Fungus Fix is odorless.
Fungus Fix Ingredients
OPI Fungus Fix contains a number of ingredients that are purported to aid, directly or indirectly in the treatment of toenail fungus
Ethoxydiglycol is added to the formulation as a solvent to make Fungus Fix less viscous and easier to apply to nails. This ingredient is colorless.
Propylene glycol provides increased moisturizing ability and helps to spread the formula evenly by acting as a lubricant.
Undecylenoyl glycine is a natural substance derived from sunflower and oat proteins. This is added to Fungus Fix for two reasons: this is a natural antibacterial which can help control any bacterial infections that may be commensal with the fungus; undecylenoyl glycine also helps to support the natural acidity of the skin, making it more difficult for secondary bacterial infections to begin.
Usnic acid is a byproduct of lichen and is the only active antifungal ingredient in OPI Fungus Fix. Usnic acid does have antifungal properties, so it may have some value in killing off nail fungus. If taken orally, usnic acid can cause liver damage.
Unlike other nail fungus products, Fungus Fix does not appear to contain undyclenic acid, which short circuits the normal development of the nail fungus.
User Comments
As with literally any product, there will be people who find OPI Fungus Fix to be the answer to their problems, and others who derive no benefit whatsoever. The numbers of reviews are relatively scant.
Those who found Fungus Fix to be effective had this to say about it, "This product is the only one that has ever worked for me," and another customer gave this review, "Fungus Fix got rid of my toe fungus, which I had for several years", and finally a woman reported, "Great product and very effective for those nasty attacks on one's nails".
However, there were also users who had nothing good to say about it such as, "I was very disappointed with this product. It is an oily liquid which did nothing to cure my nail fungus". A very unhappy customer said, "I saw no improvement. My nails are actually worse. Don't waste your money on this product. I wish I'd never bought it".
OPI Fungus Fix Specifications
This nail fungus product contains 1 ounce of fluid. The shipping weight, from Amazon, is considered to be 1 pound. OPI suggests using the compound twice every day on the affected nails. Although not detailed on Amazon or elsewhere, it would be assumed that the nails should be cleaned and dried before applying Fungus Fix.
What's Good about OPI Fungus Fix?
One of the more attractive things about Fungus Fix is that it will be easy on your wallet; it is a relatively inexpensive compound. It does seem to work for some people, too. The top of the bottle has an applicator brush so applying the solution to the nails will not present any difficulties. Although it is not mentioned, it might be a good idea to wash off the brush with soap and water, and then dry it, before returning it to the bottle to prevent contaminating the remaining liquid with the fungus.
Problems with Fungus Fix
One of the biggest problems with this product is that it is not presently being manufactured, so the supply online is finite. Another problem is that it seems not to be effective for everyone who uses it, although the same could be said for any product. There is no information on the OPI website about Fungus Fix, either, as it is no longer being made.
Editor Recommendations
The fairly low price of OPI Fungus Fix could make it an attractive alternative to treating nail fungus were it not for the fact that you may not be able to get more if you need it. If you're willing to take a chance on a limited available supply, and have not had much success with other products, then by all means, give it try. For those who worry that their nail fungus infection will not be cleared up quickly by Fungus Fix, you should probably look elsewhere for help.
User Reviews
Disclaimer: Individual results may vary. The text on this website is for informational purposes only and should not be used in substitute for the advice of a physician or other medical professional. All statements, opinions, and information on this website have not been evaluated by the Food and Drug Administration.