What Treatment(s) Should You Use?
People waste years trying home remedies and ineffective topical solutions to battle nail fungus – only to have the fungal infection remain unchanged or worsen. Use the information below to find a treatment that will work and avoid wasting your time and money.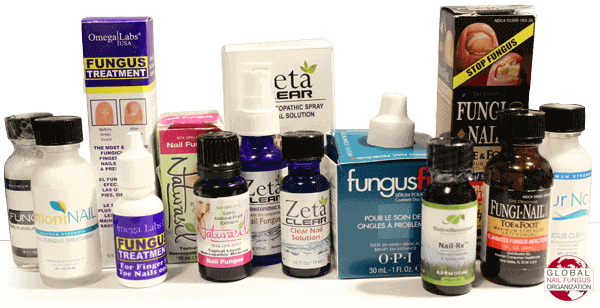 Option 1:
Find a Product Yourself
Not all nail fungus treatments are the same. Some products contain zero active ingredients, while others contain high concentrations of skin-damaging acids. The products which work best to help defeat nail fungus contain the following:
> Undecylinic Acid
Undecylinic Acid is a natural fungicide (derived from castor oil) that is FDA approved as an over-the-counter medication for skin disorders such as toenail fungus, and candida albicans. It has anti-bacterial, anti-fungal, and anti-viral properties.When being used to treat toenail fungus it would be considered the "active ingredient" and should be exactly 10% of a solution for optimal results.
> Tea Tree Oil 
Tea Tree Oil, or Melaleuca Oil, is a natural oil made from the leaves of Australia's Melaleuca alternifolia plant. Clinical studies have shown Tea Tree Oil to be as effective as clotrimazole (Lotrimin) in the treatment of nail fungus. Tea Tree Oil has many compounds and properties which help maintain the beauty and health of the nail and surrounding skin, as well as helping Undecylinic Acid penetrate to the nail bed.
> Sunflower Seed Oil
Sunflower Seed Oil, or Helianthus Annuus, is a vitamin-rich plant oil, containing Vitamins A, D, E, and lecithin, as well as unsaturated fatty acids. This oil is particularly effective at penetrating the nail's surface and reaching the nail bed where a fungus infection lives.
Any formula that does not contain these three ingredients will most likely be ineffective and possibly dangerous. We do not recommend the use of "home remedies" and many can cause severe skin irrtation and cause fungal infections to become worse.
Option 2:
Choose a
National Nail Fungus Organization
Recommended Product
|
|
|
|
|
|
|
|
|
|
|
|
|
|
|
Are Prescription Drugs More Effective and Safer than Topical Products which Can be Purchased without a Prescription?
The use of prescription medications does not necessarily result in a shorter treatment time when compared with the use of over the counter remedies. In most cases, the recommended treatment period for oral and topical prescription drugs is much longer than product manufacturers of over the counter medications recommend for their remedies. The recommended treatment time for many of the prescription medications is nine months to one year. The success rates of the prescription drugs are usually quite low. Many of the prescription medications have the potential to cause significant untoward side effects which must be taken into account when choosing what kind of treatment to utilize for the healing of infected nails.
More research needs to be conducted to get a true picture of what works and what is less useful. Safer, faster, and more effective prescription drugs need to be developed in order to treat infections which are not responsive to safer, topical, remedies.
You can learn more about the different types of treatments avalibale to nail fungus on our Treatment Types page.
You can compare medications and determine which is best for you on our Medication Comparison page.